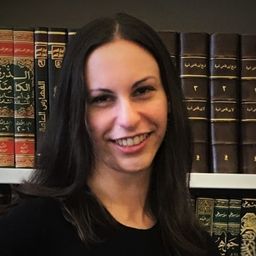 Jennifer Grayson
Rabbi Aaron D. Panken Assistant Professor of History
HUC-JIR
Jennifer Grayson, Ph.D., serves as Rabbi Aaron D. Panken Assistant Professor of History at HUC-JIR and at Xavier University in Cincinnati. She researches Arabic-speaking Jewish communities in the medieval Islamic world.
Dr. Grayson's current book project traces changes in the relationship between Jewish government officials, the Babylonian geonim, and the Abbasid Caliphate in Baghdad between the tenth and twelfth centuries. More broadly, she is interested in the social and political history of the pre-modern Mediterranean; pre-modern and modern Jewish history; and, especially in her capacity as a joint-hire with Xavier University, inter-religious dialogue.
Dr. Grayson holds a Ph.D. in History from The Johns Hopkins University (2017); an M.Phil. in Middle Eastern Studies from the University of Cambridge (2013), where she was a Gates Cambridge Scholar; and an A.B. in History and Late Antique Cultures from Brown University (2011).
Sessions in which Jennifer Grayson participates
HUC-JIR - Herrman Learning Center: Classroom 10
3:45 PM - 5:00 PM | 1 hour 15 minutes
Workshop