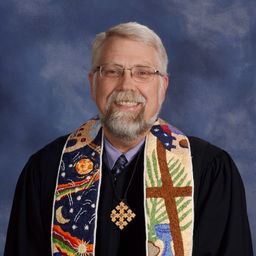 Timothy Ahrens
Sr. Minister
First Congregational Church
The Rev. Dr. Timothy C. Ahrens began his ministry as Senior Minister of First Congregational Church, United Church of Christ in downtown Columbus on January 23, 2000. A church known for its witness to social justice since its birth as an abolitionist congregation in 1852, Rev. Ahrens is the fifth consecutive senior minister from Yale Divinity School and is a lifelong member of the United Church of Christ. Under his leadership, First Church has doubled in membership during an era when seven downtown churches have closed their doors.
Rev. Ahrens has been a strong and respected voice in the community since 1985 when he arrived in the city to serve North Congregational UCC on Henderson Road. He has built relationships with other pastors, lay people and city leaders to work to end poverty through improved education, fair labor laws, job creation, fair housing, health care reform and equal rights for all people. He has advocated for the end of gun violence and the abolition of the death penalty and has served two terms as co-president of B.R.E.A.D. (Building Responsibility Equality And Dignity), which he helped found in 1996. To move compassion for the poor forward across Ohio, Rev. Ahrens launched We Believe Ohio in 2006.
Rev. Ahrens earned his Doctor of Ministry degree from Chicago Theological Seminary. His thesis was entitled: "Young and Growing Stronger: Creating a Model of 21st Century Prophetic Witness Leaders with a New Generation." A devoted husband and father, he and his wife, Susan Sitler, have been married since November 1985 and are the parents of four adult children and have two grandsons.
Sessions in which Timothy Ahrens participates